30th September 2011 – Miss A Press Conference in Singapore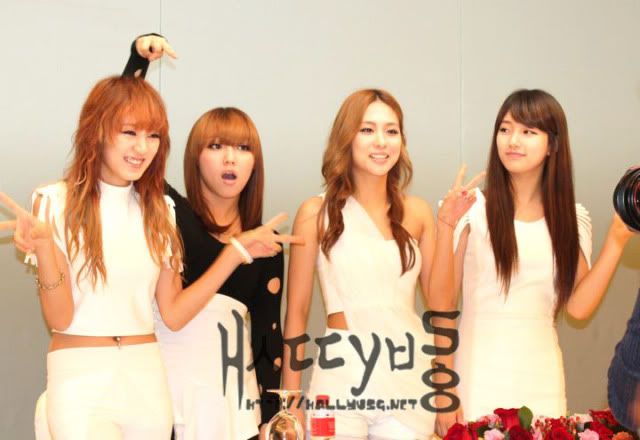 Having returned to Singapore for the third time, Miss A held their

press conference

at the Hard Rock Hotel Sentosa a day after their first fansign session. Finding their way to success from the debut song "

Bad Girl Good Girl

", followed by popular tracks such as "

Breathe

", "

Love Alone

" and their latest title song "

Goodbye Baby

", is none other than the

4-membered girl group that consists of Min, Fei, Jia & Suzy

.
During the press conference, Miss A expressed their feelings about their third visit to Singapore as well as their showcase which was to be held that night. They added that the members have been anticipating the showcase where they have all practiced hard to bring everyone the special stage performances. The girls were seen in their bubbly and friendly self throughout the press conference, enjoying it as much as everyone who were present there.
Min spoke in fluent English, while the Chinese members Fei and Jia conversed with the audience in Mandarin. Suzy, who was the youngest of the group, was quick enough to liven up the atmosphere by expressing a few phrases in Mandarin too. On top of that, Min also mentioned that they have been learning Mandarin from Fei and Jia, as well as taking up classes to further enrich themselves.

Here are some of the questions prompted by the media personnel:
Q: The cover of your recent album "Goodbye Baby" features a pair of legs. Whose legs are those and how did the producer decide whose legs to choose? Also, whose legs do you think are the prettiest?
Min : It was none of our legs, and I think that all of us have different types of legs (*Laughs*). Jia has long and thin legs, mine has small calves and my thighs are slightly bigger… Fei's legs look very athletic and Suzy is tall so she has long and girlish kind of legs.
Q: What is the members' favorite song besides the title song from the new album?
Jia: Mine is Mr Johnny, because it took me time to learn to rap in English and Min helped me alot too.
Min: Love Alone, because it was fully recorded in English and we were able to interact with international fans through this song.
Fei: One To Ten, as I like its rhythm.
Suzy: Help Me. It has a very different feeling to this song, unlike our usual powerful movement performances.
Q: What is Miss A's greatest fear for the Showcase performance tonight since there was once Min's shoe flew off on stage?
Miss A: We have no fear and we are looking forward to a great performance tonight.
Min: As for me, I hope that my shoe won't fly off today (*

Laughs

*).

Q: Any fond memories of Singapore and any encounters with crazy fans?
Miss A: We went shopping and tried the food here. We ate Chilli Crab and the fans here are amazing.
Min: There was a fan who came up crying during the fansign event…I felt so bad, and I said "Oh Honey don't cry!"… There was also a group of boys screaming our names. I think they were bubbly and full of colours.
Q: What were the fondest and unforgettable memories since Miss A's debut?
Miss A: The overseas performances, the first time we performed together on stage, and when we had our first win as a group. It drives us to work harder to produce better music for everyone.
Special thanks to Alpha Entertainment for inviting HallyuSG to cover the press conference as part of the media team.
Check out more exclusive photos taken during the Press Conference at our facebook page under "Miss A Press Conference – 30th September 2011" album. (Please do not remove or edit the watermark on the images. Thank you!)
Do check out our coverage post on Miss A's 1st Fan Meet in Singapore too!
Follow us on facebook and twitter to receive instant updates on the upcoming K-pop events in Singapore!