Trendy idols, SEVENTEEN, will be making their third visit to our sunny shores real soon and this time, it's for a concert and fans can definitely expect an unforgettable show and experience with the boys.
Although they are now traveling around the world and putting up shows, things weren't rosy in the beginning. If you had asked anyone about SEVENTEEN 2 years ago, many would have very little to say about them but now, CARATs can proudly say that SEVENTEEN's list of achievements span far and wide that they've become hard to count! They're definitely making headlines after headlines and this is proven by the fact that SEVENTEEN is now part of the trio of hot idols 'EBS' (A popular term mentioned amongst Koreans when it comes to describing the current top 3 idol groups in Korea).
Following their rising popularity in Korea, they've even managed to debut in Japan with the song "CALL CALL CALL!" and the responses they've received was nothing short of amazing.
The name SEVENTEEN comes from the fact that there are 13 members whom are splited into 3 different sub-units and when combined, form 1 team (13+3+1 = 17). The Hip-Hop team comprises of S.Coups, Wonwoo, Mingyu and Vernon, the Performance Team comprises of Hoshi, Jun, The8 and Dino and the Vocal Team comprises of Woozi, Jeonghan, Joshua, Seungkwan and DK.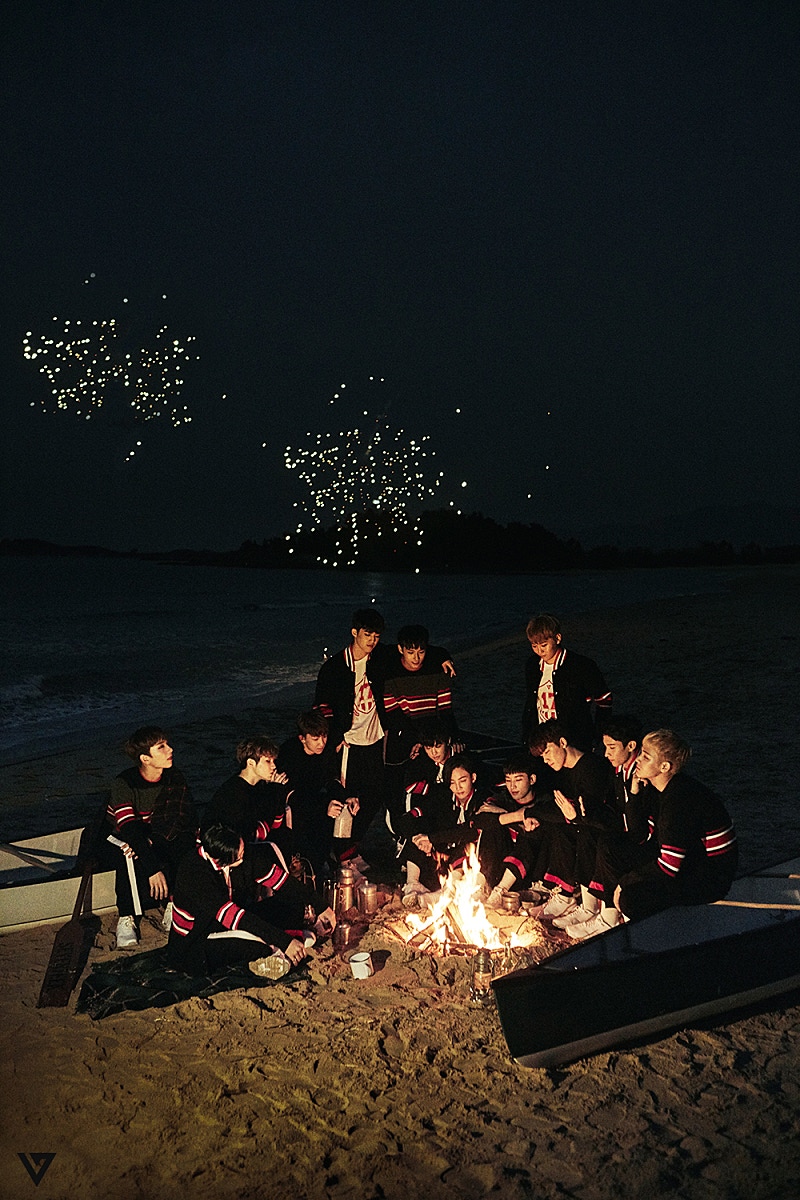 SEVENTEEN is known as "Self-Producing Idols" and they sure do not fall short of their moniker, with many catchy tracks on their discography such as "Pretty U", Clap", "Don't Wanna Cry" being composed and choreographed by the members themselves. Member Woozi does most of the composing, while Hoshi does a lot of the choreographing. Members of the group also help write lyrics from time to time!
Another charming point of theirs is their skill in adapting to different genres such as ballads and/or R&Bs. "Say Yes", "Campfire" and "Smile Flower" are such examples. Though mellower compared to their other tracks, it is still very addictive and delightful to hear, and I'm sure CARATs are always excited to see SEVENTEEN venture out into new genres!
After selling out shows in Korea and Japan, SEVENTEEN will soon be making a stop in Singapore for their 'IDEAL CUT' tour and HallyuSG was lucky enough to score a quick e-mail interview with them. Here is what they have to say to all the Singapore CARATs out there!
1) It will be SEVENTEEN's third visit to Singapore this September. Are there anything that you missed about Singapore or are looking forward to experiencing this time round?
– MINGYU: The most memorable moment was when we arrived at the airport in Singapore. I still remember how our energetic fans greeted us with high energies. I really look forward to seeing them again.
– S.COUPS: Since we get so much love from our Singapore CARATs, we miss them!

2) Can any member recommend a song from their 5th mini album, "You Make My Day"?
– S.COUPS: I would like to recommend 'Our Dawn is Hotter than Day'.

3) Please give a shout out to Singapore CARATs. What can they look forward to at the upcoming concert?
– JOSHUA: Hey Singapore CARATs! It's been so long since the last time we've seen you guys!! We'll show you guys an amazing show. I can't wait!
– S.COUPS: We miss our CARATs! We've prepared an enjoyable show for our CARATs and we hope you guys are excited.
With all that said, we are so pumped to have the 13 members back in Singapore soon! 'IDEAL CUT in SINGAPORE' will be taking place at the Singapore Indoor Stadium on September 21, 8PM and ticket prices start at $98. VIP ticket holders can also stand a chance to win a Sound Check pass too! Singapore CARATs, what are you waiting for? Go get your tickets now!
Stay tuned to our social media channels for the latest updates of the concert! Find out more about the concert here.
---
(Photo Credits: PLEDIS Entertainment, Fast Track Events)